How to create Android app for website using WebView:
With a steep increase of Mobile users, many of website owners are now creating an android app for their website. This helps in increasing their user database. In this tutorial, I will show you how to create a basic android app for your website using WebView in android. We will use New Android Studio to create this project. Make sure that your website is crafted for Responsive Web Design in order for this tutorial to work.
[widget id="text-15″]
If you are using a WordPress or any other CMS (Content Management System), make sure you are using a responsive theme. Now Get ready to create your own Android app for your Website!
The complete code to create android app for website can be cloned / downloaded from the link attached below:
Create Android App for Website: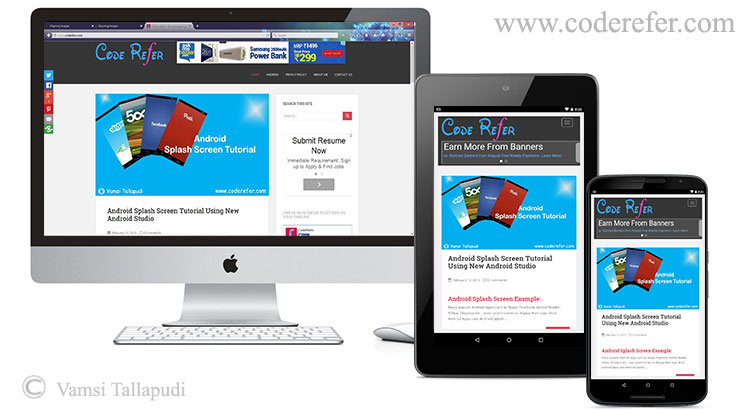 Requirements and Recommended Tutorials for this article:
To Create Android App, first you need to know following requirements:
How to implement a splash screen for your Android Project.
How to create android Project using Android Studio.
A Responsive Website.
A little bit of Java.
Steps for Creating Android App for your Website using WebView:
Create a New Android Project and Name it any thing you want. Here I am Creating an Android App for this Website, coderefer.com. So I am naming it as CodeRefer. We have already discussed about Creating Android Project in our Previous articles, I will just go briefly.
Now select minimum SDK. I am selecting minimum SDK as API 10. Select Blank Activity > Next> Finish. I am leaving the names of activity and xml file as per default name. This completes creating Android Project.[widget id="text-3″]
Now you can Implement the Splash Screen. We have discussed about how to implement a splash screen in our previous article.
Now open Main Activity.java from Project Name > app > src > main > java > MainActivity
Now type the following code:

package com.coderefer.coderefer;

import android.app.Activity;
import android.app.AlertDialog;
import android.content.DialogInterface;
import android.graphics.Bitmap;
import android.os.Bundle;
import android.view.KeyEvent;
import android.view.Menu;
import android.view.MenuItem;
import android.webkit.WebSettings;
import android.webkit.WebView;
import android.webkit.WebViewClient;
import android.widget.ProgressBar;


public class MainActivity extends Activity {

 private WebView mWebView;
 ProgressBar progressBar;


 @Override
 protected void onCreate(Bundle savedInstanceState) {
 super.onCreate(savedInstanceState);
 setContentView(R.layout.activity_main);

 mWebView = (WebView) findViewById(R.id.activity_main_webview);

 progressBar = (ProgressBar) findViewById(R.id.progressBar1);

 WebSettings webSettings = mWebView.getSettings();
 webSettings.setJavaScriptEnabled(true);
 mWebView.loadUrl("http://13.126.215.213.xip.io/test");
 
 }
}

Here you need to specify which url to load in WebView's loadUrl Just type your web address there. Here I am using my website url : http://13.126.215.213.xip.io/test for which I want to design app for.

[widget id="text-15″]

We now edit activity_main.xml by clicking text tab and paste the following code to display progressbar and to display your website after it is fetched:

<RelativeLayout xmlns:android="http://schemas.android.com/apk/res/android"
    xmlns:tools="http://schemas.android.com/tools" android:layout_width="match_parent"
    android:layout_height="match_parent" android:paddingLeft="@dimen/activity_horizontal_margin"
    android:paddingRight="@dimen/activity_horizontal_margin"
    android:paddingTop="@dimen/activity_vertical_margin"
    android:paddingBottom="@dimen/activity_vertical_margin" tools:context=".MainActivity">

    <ProgressBar
        android:layout_centerHorizontal="true"
        android:layout_height="wrap_content"
        android:layout_width="wrap_content"
        android:layout_gravity="center_vertical|center_horizontal"
        android:id="@+id/progressBar1"/>

    <TextView
        android:layout_below="@+id/progressBar1"
        android:layout_height="wrap_content"
        android:id="@+id/LoadingText"
        android:layout_width="fill_parent"
        android:text="Loading, Please Wait.."
        android:textSize="20sp"
        android:gravity="center_horizontal">
    </TextView>

    <WebView
        android:id="@+id/activity_main_webview"
        android:layout_width="wrap_content"
        android:layout_height="wrap_content"/>

</RelativeLayout>

Make sure you added Internet permission for your manifest. If not add this piece of code in your manifest:

<uses-permission android:name="android.permission.INTERNET"/>

Now you can run your app to display your Website, but here is the problem: When you click on any link on your website, it opens your mobile browser instead of showing the link in your app. We need to make sure that any link opens in the app itself.[widget id="text-3″]

To make any link to work in the app itself, replace the code with the following in MainActivity.java:

package com.coderefer.coderefer;

import android.app.Activity;
import android.app.AlertDialog;
import android.content.DialogInterface;
import android.graphics.Bitmap;
import android.os.Bundle;
import android.view.KeyEvent;
import android.view.Menu;
import android.view.MenuItem;
import android.webkit.WebSettings;
import android.webkit.WebView;
import android.webkit.WebViewClient;
import android.widget.ProgressBar;


public class MainActivity extends Activity {

    private WebView mWebView;
    ProgressBar progressBar;


    @Override
    protected void onCreate(Bundle savedInstanceState) {
        super.onCreate(savedInstanceState);
        setContentView(R.layout.activity_main);

        mWebView = (WebView) findViewById(R.id.activity_main_webview);

        progressBar = (ProgressBar) findViewById(R.id.progressBar1);

        WebSettings webSettings = mWebView.getSettings();
        webSettings.setJavaScriptEnabled(true);
        mWebView.loadUrl("http://13.126.215.213.xip.io/test");
        mWebView.setWebViewClient(new HelloWebViewClient());


    }

    private class HelloWebViewClient extends WebViewClient{


        @Override
        public void onPageStarted(WebView view, String url, Bitmap favicon) {
            // TODO Auto-generated method stub
            super.onPageStarted(view, url, favicon);
        }

        @Override
        public boolean shouldOverrideUrlLoading(WebView webView, String url)
        {
            webView.loadUrl(url);
            return true;
        }

        @Override
        public void onPageFinished(WebView view, String url) {
            // TODO Auto-generated method stub
            super.onPageFinished(view, url);

            progressBar.setVisibility(view.GONE);
        }

    }


    @Override
    public boolean onKeyDown(int keyCode, KeyEvent event)
    { //if back key is pressed
        if((keyCode == KeyEvent.KEYCODE_BACK)&& mWebView.canGoBack())
        {
            mWebView.goBack();
            return true;

        }

        return super.onKeyDown(keyCode, event);

    }




    @Override
    public boolean onCreateOptionsMenu(Menu menu) {
        // Inflate the menu; this adds items to the action bar if it is present.
        getMenuInflater().inflate(R.menu.menu_main, menu);
        return true;
    }

    @Override
    public boolean onOptionsItemSelected(MenuItem item) {
        // Handle action bar item clicks here. The action bar will
        // automatically handle clicks on the Home/Up button, so long
        // as you specify a parent activity in AndroidManifest.xml.
        int id = item.getItemId();

        //noinspection SimplifiableIfStatement
        if (id == R.id.action_settings) {
            return true;
        }

        return super.onOptionsItemSelected(item);
    }

    public void onBackPressed() {
        AlertDialog.Builder alertDialogBuilder = new AlertDialog.Builder(
                MainActivity.this);

        // set title
        alertDialogBuilder.setTitle("Exit");

        // set dialog message
        alertDialogBuilder
                .setMessage("Do you really want to exit?")
                .setCancelable(false)
                .setPositiveButton("Yes",new DialogInterface.OnClickListener() {
                    public void onClick(DialogInterface dialog,int id) {
                        // if this button is clicked, close
                        // current activity
                        MainActivity.this.finish();
                    }
                })
                .setNegativeButton("No",new DialogInterface.OnClickListener() {
                    public void onClick(DialogInterface dialog,int id) {
                        // if this button is clicked, just close
                        // the dialog box and do nothing
                        dialog.cancel();
                    }
                });

        // create alert dialog
        AlertDialog alertDialog = alertDialogBuilder.create();

        // show it
        alertDialog.show();
    }
}


Here we additionally setup WebViewClient to display any link in the app itself and we also overrided onKeyDown method to implement WebView's goBack Method. We used onBackPressed Method to display Exit Dialog if user presses back key from the specified URL.

Now you can change the launcher icons by replacing the icons in mipmap folders generally located at C:\Users\username\AndroidStudioProjects\CodeRefer\app\src\main\res. To generate icon pack you can use this link.
Your basic mobile App for your Website is now ready! Leave your comments below if there are any queries.
[widget id="text-15″]