How to use GenyMotion as Android Emulator:
Ever felt that android emulator is slow? Ever felt that emulator is not not as good as Real Device? If so GenyMotion may be for you. GenyMotion is simply a Virtual Android Emulator but with more features and much more faster than Android Studio's Emulator.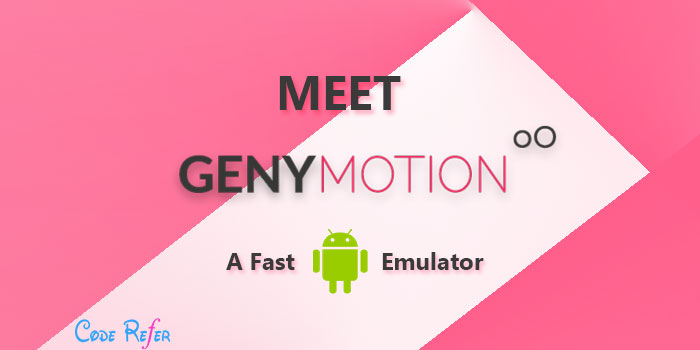 Advantages of Genymotion:
Its Faster to start, easier to use, resizable.
It has many options such as: Change Battery Level, GPS sensor, Gyroscope etc.
[adinserter block="8″]
Steps to Install GenyMotion and Use it as Virtual Emulator for Android Studio:
Installation of  Genymotion is simple. Here are the steps to install Genymotion:
To download GenyMotion, visit the website and choose Free or Business Account. A free account is usually sufficient for personal use. However if you want to get more features you need a Business Account.
After you choose download, it will take you to another page showing a link called Get Genymotion.
Now Download the file and install it. It also prompts to install Oracle Virtualbox. Install it and complete the setup process.
You can additionally install Genymotion Plugin to start Genymotion's emulator from Android.
Steps to Install Genymotion Plugin:
Go to File > Settings > Plugins.
Click on Browse Repositories.
Restart Android and you can now directly launch Genymotion by clicking the icon in Android Studio.
Creating a Virtual Device in Genymotion:
Creating a virtual device in Genymotion is very easy. You just have to just click on Add button on top of Genymotion window and choose any device listed below. Hit Next button and Click Finish after the required files are downloaded.
[adinserter block="8″]
Now you can start your virtual device by selecting on the required device and clicking on Start Button.
Testing Android App on Genymotion:
To test android app on Genymotion, we launch the emulator using either Genymotion plugin or Genymotion.exe file and pressing Start button.
After the emulator is launched, we can test the app on android device by running the app as usual by launching the app by clicking Run Button.
Now you can successfully run your android App on Genymotion.
[adinserter block="8″]